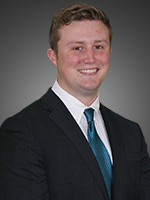 George McCabe
George McCabe joined McCabe & Associates as a financial planning assistant in 2017 after completing his undergraduate degree in accounting at the University of Notre Dame. While there, he completed coursework in business finance, financial analysis, and investments, as well as economics and tax-related disciplines.
George joined the family business after watching his father create an impact in the community by helping individuals, families and businesses reach their financial goals. With his experience interning at McCabe & Associates, as well as the knowledge he's gathered through his education and other work experience, George hopes to help even more people plan for retirement, purchase their dream homes, put their children through college, and much more.
George resides in Mokena and is currently furthering his studies by pursuing his Certified Public Accountant designation. In his free time, he enjoys reading and spending time with his family.